***
Posted 2/2/13:
I found my book!
http://www.amazon.com/gp/product/B0006BV6P6/ref=oh_details_o01_s00_i00
Posted 10/31/11:
Searching for a beautifully illustrated book I had as a child which told the story of Ma Liang and His Magic Paintbrush.
I found a link here with images that look correct - excerpts from this page below:
http://www.ccph.com/travel/china/classroompackage/tell.html
Ma Liang and His Magic Paintbrush
The Story of Ma Liang and his magical brush is very popular among Chinese children and is a typical example of traditional Chinese folk stories. China has a long history of being a Feudalistic society where the rich owned the land and stayed rich by passing their wealth to their children; and the poor stayed poor no matter how hard they worked. Chinese folk stories typically depicted the rich as greedy, mean and foolish, and the poor as diligent and intelligent. In the stories, the poor could always outwit the rich and eventually bring justice to their lives.
In this story, Ma Liang is generous, brave and kind. Even though he was just a child, he wasn't intimidated by adults with great powers; nor was he tempted by money. He could use his magical brush to get everything he wanted yet he only used it to help the poor. His story filled Chinese children of many generations with joy -- and dreams to have their own magical brush one day.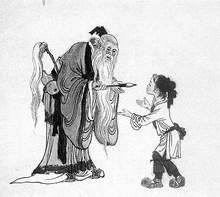 another image that also looks familiar:

Niu Lang and Zhi Nu
The story of Niu Lang and Zhi Nu is known to every house-hold in China. The story has been recorded as far back as the Jin Dynasty (256-420 AD). The story was also adapted to operas, TV series and even TV commercials.
Niu Lang literally means the man of ox, and Zhi Nu means the woman that embroiders, which explains why Niu Lang's best friend is a bull and that Zhi Nu embroiders at home when Niu Lang worked in the field.
Today the names of Niu Lang and Zhi Nu are nicknames for couples separated by distance. For instance, if a soldier is sent to patrol the border of China and his/her spouse stays at home, they would be called Niu Lang and Zhi Nu.
The reason Zhi Nu was able to live with Niu Lang for several years before she was summoned back to the HeavenlyNiu Lang and Zhi Nu Court is that, according to popular Chinese myths, one day in the Heavenly Court is seven years on the earth. It didn't take long for the Emperess to find out her granddaughter was missing, but long enough for Zhi Nu to build a family on earth!
In the story, Zhi Nu flew away on a cloud. Chinese legends always have it that godly creatures ride clouds when they fly.
Every year on July 7th of Chinese Lunar Calendar, grannies tell children that they wouldn't find many sparrows that day because they fly to form the bridge for Niu Lang and Zhi Nu. The image on the right shows how Niu Lang and Zhi Nu meet on the Sparrow Bridge (que qiao). (Image courtesy of China Radio International)
The Heavenly Court is a mythical place in many Chinese legends where the gods live.